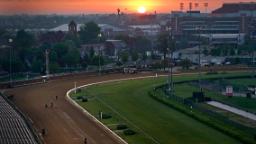 Aguiar told WAVE that it was his wife's idea to name the horse after Taylor because he is "tough and good looking." Racehorses get their names during their second year of life, and names can be changed at any time before their first race, according to Jockey Club rules.
Janelle Aguiar celebrated the victory on Facebook.
"Every time we win a horse race is exciting … But it takes on a new level when you name your horse Breonna in honor of #BreonnaTaylor, the horse wins at Churchill Downs in Derby week, and you hear so many people # SayHerName, "she wrote in a post.