Fan causes massive crash in Tour de France cycle race
Posted On June 27, 2021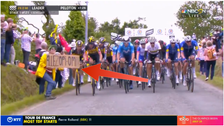 The 108th Tour de France cycling race got off to a chaotic start on Saturday when a spectator panel struck a rider, triggering a massive pile-up.
The replay video shows the fan smiling and facing the same direction as the runners, with a large cardboard sign sticking out into the narrow country road. Tony Martin, a 36-year-old German cyclist, was reportedly the first to fall, followed by a neighboring runner who fell on him.
The spectator's sign read "Go Opi-Omi!" in black marker – a message for the holder's grandparents.
It was not immediately clear if anyone had been seriously injured in the wreckage of bikes and bodies, but at least one person's bike appeared to have cracked.
Some of the riders – including Martin, who appeared to have a bloodied arm – got up and continued on, with 29-year-old French cyclist Julian Alaphilippe crossing the finish line first. Others waited for new bikes to be delivered by their teams.
But the navigation was not easy from that point on: a second big accident at a higher speed tripped many riders who had missed or overtaken the first. A biker who was thrown from his bike narrowly missed hitting a telephone pole along the road.
The 2,124 mile race started today in Brest, a town at the western edge of France. The runners were within 30 miles of the day's finish point when the first crash occurred.
The tour's official Twitter account tweeted a reminder to fans alongside a montage of spectators getting up close to the runners in previous races.
"We are happy to have a crowd on the side of the road … but for the tour to be a success, respect the safety of the runners! Don't risk everything for a photo or to be on television! "
Calling all super HuffPost fans!
Sign up to become a Founding Member and help shape the next chapter of HuffPost