MLB puts Trevor Bauer on leave over sexual assault allegations
Posted On July 3, 2021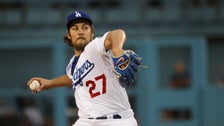 Major League Baseball announced on Friday that it had placed Los Angeles Dodgers pitcher Trevor Bauer on administrative leave for seven days after a woman accused him of sexual assault and other abuse.
MLB said it was investigating the allegations against Bauer. The Los Angeles Police Department said earlier this week that it was also reviewing the allegations.
A woman filed a domestic violence restraining order against Bauer, 30, last month, according to sports magazine The Athletic. She accused him of multiple acts of violence, including sexual assault and punching in the genitals and face.
Bauer, through his agents, refuted the woman's claims, calling them "fraudulent" and insisting that the two had "a brief and fully consensual initiated sex" by the woman.
The athlete's agents said on Friday that Bauer would not appeal the MLB decision and reaffirmed his denial of the woman's allegations.
Bauer – who received last year's prestigious Cy Young Award for best pitcher in the league – was due to start in a game against the Washington Nationals on Sunday, despite the allegations made against him.
Dodgers manager Dave Roberts said Thursday that Bauer's availability to pitch was "out of our hands" and said he would defer to the league's recommendation.
"I am able to follow the lead of Major League Baseball," said Roberts. "It was our program [starter] Sunday, and to go ahead and start this game on Sunday. And so in order for me to try to read more in it outside of what they advised me and us to do, I simply choose to follow their lead. "
Calling all super HuffPost fans!
Sign up to become a Founding Member and help shape the next chapter of HuffPost