Energy Drink Sports League Partnerships: C4 Energy
Posted On July 4, 2021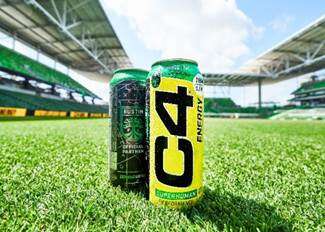 C4 Energy, "the official Austin FC energy drink of Major League Soccer and the fastest growing energy drink brand," recently announced the launch of a limited edition personalized flavor and can , the C4 Energy Mango Lime. The new drink features the iconic colors of the sports leagues, Verde and Black, and features the "Estamos Listos" team crest. Like all drinks from C4 Energy, the drink is made without artificial colors or colors and contains no sugar or carbohydrates.
"As two Austin-based companies, C4® Energy's partnership with Austin FC is extremely special to us," said Doss Cunningham, CEO of Nutrabolt. "We can feel the excitement and energy in the air leading up to the opening of Austin FC's new Q2 Stadium, and we are delighted to be a part of this momentous occasion for our city. We look forward to continuing C4®'s commitment to the sport, Austin FC and our community. "
Fans can find the new C4 Energy Mango Lime, along with other brand flavors, throughout the season at Austin FC's all-new stadium.
Image Credit: C4 Energy