Wydad champion of Morocco for the 21st time
Posted On July 15, 2021
Wydad did not miss the opportunity to reclaim their lost title last season. The Red and White won, this Wednesday, July 14, their match of the 27e Botola Pro Inwi D1 day against Moloudia d'Oujda on the move (2-0). The goals of the sacred are the work of the top scorer in the championship, Ayoub El Kaabi (64 ') and Yahya Attiat Allah (90 + 1').
The Red and White thus won the title with three days remaining. With 63 points on the clock, they are in fact ahead of their rivals Raja by 11 points. The Greens won a little earlier against the Moghreb of Tetouan (4-1).
With this new coronation, the WAC now has 21 titles, including 16 won since the creation of the Royal Moroccan Football Federation (FRMF) in 1956. The Raja and the FAR are still at 12. Follow the KAC of Kénitra and the Moghreb from Fez with 4 sacred each.
At the final whistle, fans detonated a few firecrackers in the majority pro-Wydad Burgundy district, while some motorists signaled this coronation with horns on Boulevards Zecktoni and Massira Al Khadra in Casablanca.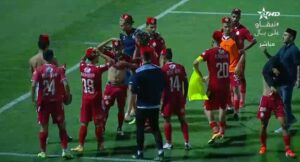 MH