Paralympian shorts say "too short"; Handball team fined for rejecting bikini bottoms
Posted On July 20, 2021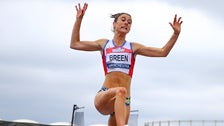 A British Paralympic athlete was told her tracksuit shorts were 'too short and inappropriate', while members of the Norwegian women's national beach handball team were fined for refusing to wear bikini bottoms during of a European Championship match.
Paralympic sprinter and long jumper Olivia Breen, 24, said she was left "speechless" after a female official criticized her outfit at the England Championships on Sunday.
"I have been wearing the same style spring briefs for many years and they are specially designed for competition. I hope I will wear them in Tokyo. It made me wonder if a male competitor would be criticized in the same way, "Breen, who suffers from cerebral palsy, wrote on Twitter.
"I agree that there must be rules and guidelines for competition dress, but women shouldn't feel embarrassed about what they wear when competing, but should feel comfortable. and comfortable, "Breen added.
England Athletics is investigating, a spokesperson told the Guardian. "The well-being of all participants in athletics is of the utmost importance and everyone should feel comfortable competing and participating in the sport," the spokesperson said.
The European Handball Federation, meanwhile, fined the Norwegian beach handball team 1,500 euros (around $ 1,780) on Monday after its players wore shorts instead of bikini bottoms when they wore them. EURO 2021 Beach Handball match this weekend. The team were beaten by Spain in a match for third place.
"The Beach Handball Euro 2021 disciplinary commission has dealt with a case of inappropriate dress," the federation said in a statement posted on its website. "In the bronze medal match against Spain on Sunday, the Norwegian team played with shorts that do not comply with the Athlete Uniform Regulations as set out in the Rules of the Game for Beach Handball. 'IHF. "
Team members described the bikini bottom as uncomfortable and degrading.
According to the International Handball Federation, "Female athletes must wear bikini bottoms … fitted and cut at an angle upwards towards the top of the leg. The width of the sides must be a maximum of 10 centimeters".
Male athletes, however, "must wear shorts" which "if they are not too baggy may be longer but must remain 10 centimeters above the kneecap".
The Norwegian Handball Federation supported the team on an Instagram post.
"We are very proud of these girls who participate in the European Beach Handball Championships," the statement read, according to The Independent. "They raised their voices and told us enough is enough.
"We are the Norwegian Handball Federation and we support you and support you," he added. "We will continue to fight to change international dress regulations so that players can play in clothes they are comfortable with."
Calling all super HuffPost fans!
Sign up to become a Founding Member and help shape the next chapter of HuffPost