Tokyo 2021 Olympics LIVE: Latest updates as chief Toshiro Muto refuses to rule out last-minute cancellation
Posted On July 20, 2021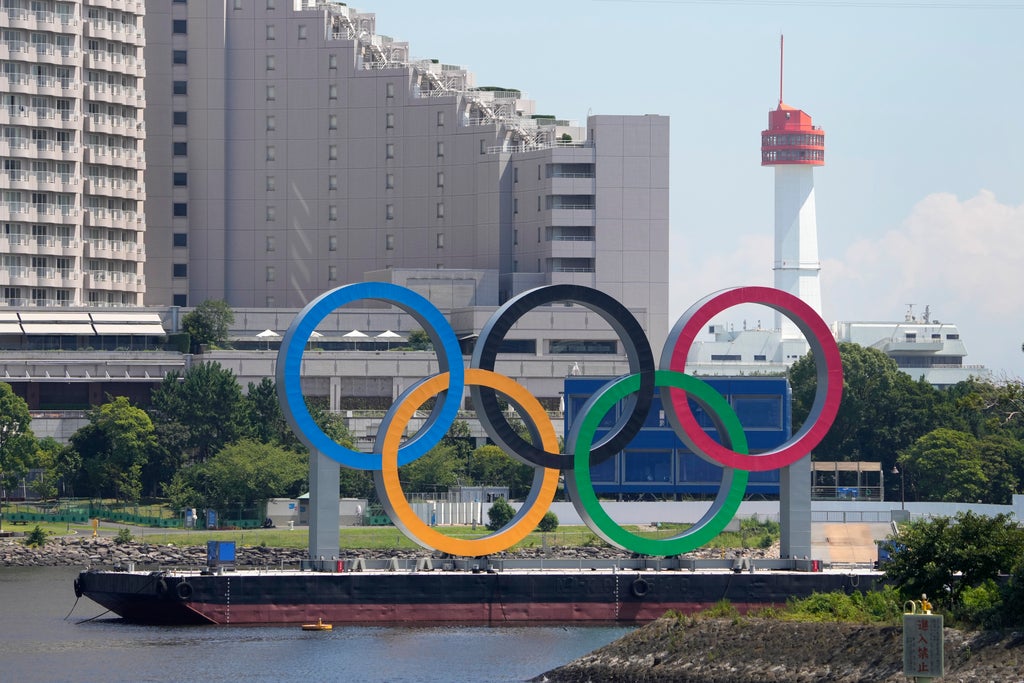 Watch live as Olympic Games spokesperson Mark Adams holds news conference
The Tokyo 2020 Olympics are just three days away but the head of the organising committee Toshiro Muto refused to rule out a last-minute cancellation amid ongoing concern surrounding Covid-19.
There is great optimism in the Team GB camp, five years on from Rio and 67 medals in total, including 27 gold medals.
While the organisers will be focused on limiting cases inside the athletes' village, with positive tests already surfacing, including two South Africa footballers Thabiso Monyane and Kamohelo Mahlatsi.
There is still some backlash to the Games taking place too, with Toyota pulling their Olympics-related adverts after unrest in Japan.
The first action for Team GB will be the women's football team, who are in action early on Wednesday morning against Chile at the Sapporo Dome. Follow all the latest updates surrounding the Games below:
1626786923
Japan's Emperor to attend opening ceremony
Friday's opening ceremony for the Tokyo 2020 Olympic Games will take place behind closed doors and is expected to be a dramatically scaled-back affair.
With only media and dignitaries present due to the threat of Covid-19.
But it has been confirmed that Japan's Emperor Naruhito will attend.
Jack Rathborn20 July 2021 14:15
1626785106
Weather conditions as tough to cope with as threat of Covid for Tokyo athletes
Mist-spraying stations for Olympic horses and cooling vests for referees are among the tools organisers are rolling out for the Tokyo 2020 Games, where participants will face scorching heat and intense humidity – on top of a worsening pandemic.
While the immediate challenge of holding the Games amid the COVID-19 crisis has overshadowed almost all other concerns, heat has been a longstanding worry. Summer temperatures in Tokyo can spike to 35 degree Celsius or more.
"There will be cooling stations not just for human beings but also for horses," Tokyo 2020 Games Delivery Officer Hidemasa Nakamura told reporters on Sunday. "For volunteers, we have salt candies, tablets and ice cream."
While organisers have moved the marathon and race-walk events to the cooler northern city of Sapporo, experts have warned of the risk from heatstroke for athletes and staff, especially those unused to Tokyo's heat or those working long hours outside.
As temperatures rise following the annual rainy season that just ended, so does the risk of heatstroke, said Motoaki Takekawa, an official in the atmosphere environment division of the Japan Meteorological Agency.
The Games run from July 23 to Aug.8, coinciding with the hottest temperatures in the country.
Emergency medicine experts have warned that first responders at the Games could easily confuse heatstroke and coronavirus patients, because the illnesses bear similar symptoms such as high temperature and dehydration.
"For foreign athletes, they are not used to Japan's hot weather," said Satoru Takizawa, a 25-year-old Tokyo office worker, who said the conditions "were not fair" to visitors.
Medical staff stationed at venues are at risk of heat illness themselves, because of their extra protective equipment, according to Shoji Yokobori, the medical officer in charge of the weightlifting venue.
He said the personal protective equipment became "a burden" in the heat.
"PPE is very tough," he said. "We may have heatstroke."
Karl Matchett20 July 2021 13:45
1626784386
Age just a number of older athletes competing at Tokyo Olympics
AP have spoken to a few athletes who are, relative to those they'll compete against, in the 'elder statesperson' category.
USWNT legend Carli Lloyd says the delay has benefitted her, despite being 39 now when the Games get underway.
"There's been so many things that I've worked on and tried to finesse in the last year," she said. "So, I'm actually, I think, in a better position than I was in 2020. I'm just really grateful and going to keep plugging away."
Jake Gibb is 45 and USA volleyball's oldest-ever Olympian, beach or indoor.It will be his fourth Olympics. This summer he's paired with Taylor Crabb, 29, who is making his Olympic debut.
"Age is an advantage," Gibb said. "So much of our game is pattern recognition. I've seen so many more unique plays and scenarios through my career and am able to react appropriately because of it. Don't get me wrong it takes a ton of work to keep up with the young bucks physically, but I've done that. I've done that work so now it's advantage."
No one considers 20-year-olds old. But the U.S. gymnastic team includes several 20-somethings, including Simone Biles, who is 24. Gone are the days of Dominique Moceanu, who was just a 14-year-old sprite when she won gold in 1996.
The average age of the U.S. team is 20.8, the oldest it's been since 1952. The oldest athlete on the team is MyKayla Skinner, who is also 24 but a few months older than Biles.
"Being older, it's just been awesome because I feel like with all the experience I've had, I feel like my gymnastics has been better than ever, which is super cool," Skinner said.
Karl Matchett20 July 2021 13:33
1626783726
Third Covid positive in Czech volleyball Olympics delegation
Czech beach volleyball trainer Simon Nausch has tested positive for COVID-19, the Czech Olympic team said on Tuesday.
Nausch is the third member of the Czech delegation to be confirmed with the virus. On Monday, beach volleyball player Ondrej Perusic recorded a positive test.
Nausch and Perusic have both left the Olympic village to isolate, their team said.
Karl Matchett20 July 2021 13:22
1626783006
Athlete found after leaving note saying he "didn't want to return" to Uganda
A Ugandan athlete who fled during pre-Olympics training in western Japan last week has been found and is being interviewed by police, officials said Tuesday.
Mie prefectural police in central Japan said 20-year-old weightlifter Julius Ssekitoleko was in the Yokkaichi city, 170 kilometers (105 miles) east of his host town in western Japan. Police are asking him what happened since he fled his hotel in Izumisano in the Osaka prefecture Friday, leaving behind a note saying he didn't want to return to his country.
Ssekitoleko left behind his luggage and a note saying he wanted to stay in Japan and work, Izumisano officials said. He did not meet Olympic standards in the latest international rankings released after he arrived Japan and was to return home this week.
The pandemic-delayed Olympics open Friday despite mounting concern about an upsurge of infections in Tokyo, which on Tuesday reported 1,387 cases, up 557 from a week ago.
On their arrival on June 19 at Narita International Airport, a member of the team tested positive and was quarantined, while the remaining eight members were allowed to travel more than 500 kilometers (300 miles) on a chartered bus to Izumisano.
Days later, a second member of the team tested positive, forcing seven town officials and drivers who had close contact with the team to self-isolate. Health officials said both infected Ugandans had the delta variant, which is believed to be more contagious.
The team, which ended its isolation and trained from July 7, headed to Tokyo's Olympic village on Tuesday without Ssekitoleko.
Karl Matchett20 July 2021 13:10
1626782302
Difficulties at the Olympics must be overcome for all champions, says volleyball coach
China's women's volleyball coach Jenny Lang Ping is not banking on a repeat performance of their gold medal win in 2016 as she attempts to lead her country to back-to-back Olympic success in Tokyo.
Lang steered the Chinese to their first Olympic title in 12 years in Rio and knows her team face significant challenges in their quest to retain the crown.
"We are not going to defend the title, we are here to fight hard for the title," she was quoted as saying by Xinhua.
"Things have changed a lot since the 2016 Rio Games and our opponents have improved a lot. We can take nothing for granted."
The 60-year-old Lang, an Olympic champion as a player in 1984, will lead her team into their first Group B game against Turkey on July 25.
China will also face the United States, Russia, Italy and Argentina, with the top four teams in the group advancing to the quarter-finals.
The Chinese are among the favourites after winning gold at the World Cup in 2019 and bronze at the 2018 world championships.
"All the teams are going to do their best at the Olympic Games, we have to be fully prepared for all kinds of difficulties," she said.
Karl Matchett20 July 2021 12:58
1626781063
Japanese PM Suga says world should see safe Olympics staged
The world needs to see that Japan can stage a safe Olympics, the country's prime minister told sports officials Tuesday ahead of the Tokyo Games.
Tens of thousands of athletes, officials, games staff and media are arriving in Japan amid a local state of emergency and widespread opposition from the general public.
Events start Wednesday — in softball and women's soccer — two days ahead of the formal opening ceremony of an Olympics already postponed a year because of the coronavirus pandemic.
"The world is faced with great difficulties," Japanese Prime Minister Yoshihide Suga told International Olympic Committee members in a closed-door meeting at a five-star hotel in Tokyo, adding "we can bring success to the delivery of the Games."
"Such fact has to be communicated from Japan to the rest of the world," Suga said through an interpreter. "We will protect the health and security of the Japanese public."
He acknowledged Japan's path through the pandemic toward the Olympics had gone "sometimes backward at times. But vaccination has started and after a long tunnel an exit is now in our sight."
Jack Rathborn20 July 2021 12:37
1626780012
Murray preparing to defend Olympic title
Andy Murray is preparing to defend his Olympic title in pursuit of a third straight gold medal.
The Scot won gold on the grass at Wimbledon in 2012 and then again in Rio at the 2016 Games.
He will hope to rebound from his third round exit to Denis Shapovalov at Wimbledon at the Games.
Jack Rathborn20 July 2021 12:20
1626779906
Fearless British boxers eye Olympic glory in land of endless hope and expectation
It is too easy to forget how hard it was for British boxers to get close to the medals at the Olympic games.
On Saturday, at a sumo palace in Tokyo, the first of Britain's 11 Olympic boxers will walk out to the ring, the fading echo of the lyrics from a cheesy pop song and the boisterous shouts from the team they now call family, will be all they hear.
The lonely walk will be emotional, the first steps in their new boots at the start of the end of their journey; it launched in March of last year, when they weighed and were ready to fight at the Olympic European qualifier in London. Then Covid swept in on day three and hearts were broken, dreams delayed in the calamity left behind.
The four women and seven men, all with patience added to their skills, have played out that walk in their heads a thousand times since their final selection for Tokyo, which originally took place in late January of 2020. No other sport has suffered like the boxing, been so close to selection, so devastated at the last minute – they had their entire existence placed on hold at a few hours' notice. At the qualifier last year, two boxers qualified and others were due to fight for their spot in Tokyo less than 12 hours after the event was scrapped. That is hard to imagine for the team, which included a teenager. It was a unique setback and they all left east London that day and night with absolutely no idea what would happen. Their boxing life on hold.
Jack Rathborn20 July 2021 12:18
1626779535
Cancelling Tokyo 2020 could have seen Olympic games fall to pieces, claims Bach
Thomas Bach says the Olympic Games could have "fallen to pieces" if the International Olympic Committee had not taken the unprecedented decision to reschedule as a consequence of the coronavirus pandemic.
The IOC president insisted outright cancellation was "never an option", despite continued opposition to the Games in Japan, where vaccination rates are low and the number of positive cases continues to increase.
Bach, who undertook three days of quarantine upon his arrival in Tokyo two weeks ago and subsequently received a lukewarm reception on a visit to Hiroshima, was speaking at the start of the 138th IOC Session in the Japanese capital.
Bach said: "Cancellation would have been the easy way for us. We could have drawn on the insurance that we had at the time and moved on to Paris 2024.
"But in fact, cancellation was never an option for us – the IOC never abandons the athletes.
"Imagine for a moment what it would have meant if the leader of the Olympic movement, the IOC, would have added to the already many doubts surrounding the Olympic Games, it would have poured fuel on to this fire.
"Our doubts could have become a self-fulfilling prophecy. The Olympic Games could have fallen to pieces. That is why we had to keep these doubts to ourselves."
Jack Rathborn20 July 2021 12:12