Simone Biles reveals what she 'never really believed' about herself until now
Posted On July 29, 2021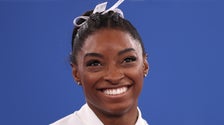 Champion gymnast Simone Biles said on Wednesday the favorable response to her withdrawal from the Tokyo Olympics made her realize that she was more than her sport.
"The overwhelming love and support I received made me realize that I am more than my accomplishments and my gymnastics that I never really believed in before," she tweeted.
Biles withdrew from the women's gymnastics individual all-around final and the all-around team final last week. She said she was not in a good mental space to compete.
There was a wave of support for Biles over her decision to prioritize her well-being despite global pressure to perform. Many other gymnasts and athletes have revealed that they have gone through similar challenges.
Olympic swimming legend Michael Phelps said it broke his heart to hear about the gymnast's struggles and said he was linked to the pressure Biles was feeling.
"I felt like I was carrying, as Simone said, the weight of the world on your shoulders, so yeah, it's a tough situation," he said.
Former Olympic gymnast Dominique Moceanu noted she competed with a serious injury at the 1996 Atlanta Olympics when she was just 14 years old. She said Biles' decision "shows we have a say in our own health -" a word "I NEVER felt like I had it as an Olympian."
Michelle Obama also joined the avalanche of support, telling Biles she was proud of herself.
"Am I good enough?" Yes I am. The mantra I practice on a daily basis, "the former first lady told Biles in a tweet. "We are proud of you and we support you."
United States Gymnastics noted he wholeheartedly supported Biles' decision to step back and applauded his bravery in putting his well-being first.
"Her courage shows, once again, why she is a role model for so many people," he said.
Calling all super HuffPost fans!
Sign up to become a founding member and help shape the next chapter of HuffPost