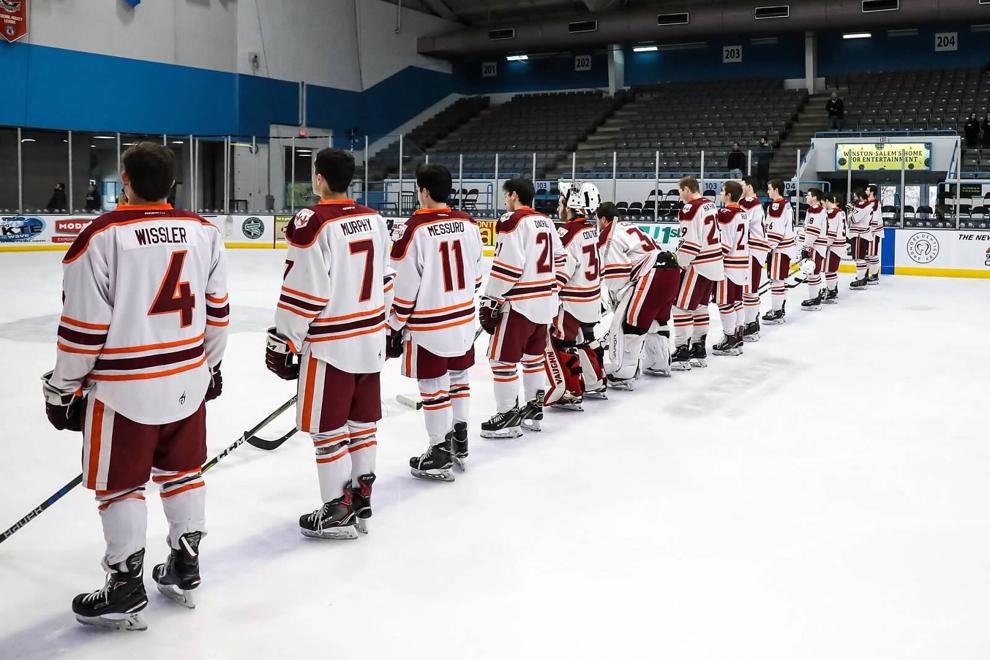 Virginia Tech offers a plethora of club sports for students who want to stay active and continue playing the sports they love at a competitive level after high school. One of the coolest teams in the world – pun intended most certainly – is the team at the Virginia Tech men's ice hockey club.
The team was founded in 1984 and was able to participate in its first full season the following year. Since then, the squad has undergone many changes, including changing divisions several times. The team was very successful; in 2009 and 2010, they won two consecutive championships in the Atlantic Coast Collegiate Hockey League (ACCHL). In the 2010-11 season, they beat Liberty to win their first Mid Atlantic Collegiate Hockey Association (MAHA) title. The league then evolved into MACH and the Hokies dominated the competition in the 2013 playoffs to claim the title.
The team have been strong ever since, despite their games being postponed until the end of 2020 due to COVID-19. They are gearing up for another exciting season as their original arena, the LancerLot Sports Complex, plans to fully reopen in time for the 2021-22 season.
For the players, being part of the team allowed them to acclimatize quickly to campus. Nicholas Messuro, a forward from Buffalo, New York, was especially grateful for the community offered by the team.
"I'm from Buffalo so I didn't know too many people here, but once you have a bunch of guys you can call your teammates it's a lot easier to go around campus and be there. 'school." said Messuro.
For Messuro and his teammate Drew Wissler, a Massachusetts forward, they have acquired many treasured memories throughout their time playing for Virginia Tech, but they each have a special moment that they remember the most.
"My favorite memory would definitely be the first goal I (scored)," said Wissler. "It was against UVA (University of Virginia), which made things a little softer."
"My favorite memory was the first year of a bus trip to UNC (University of North Carolina) Wilmington and on the way home they had this thing called Rookie Radio," Messuro said. "You put the headphones on the rookies and they hear the music playing and no one else can, and then they have to sing the song and everyone votes who performed the best."
Messuro was crowned Rookie Radio champion that day.
For head coach Joseph Mullen, who was promoted to assistant coach towards the end of the season in 2010, there are many fond memories of his time at the helm of the team.
"There are probably two; beat Liberty to go to the national championships my first year as a coach, and then the following year we won our league championship by beating three of the top five seeds in the Southeast, "said Mullen.
The team now play division two hockey with the American Collegiate Hockey Association (ACHA), and both players have their pick of the toughest players to face on the ice.
"The state of NC (North Carolina) always seems to give us a hard time, but we faced them. . . this year, and I think it was much closer than the score represented, but it's a difficult team, "said Messuro.
"NC State, they always play us pretty hard," Wissler said. "UVA, just because it's UVA, it's still a good game."
Wissler and Messuro each have their own ways of preparing for these difficult clashes, including some superstitions.
"I always try to put my left skate first or my left shin pad first," Messuro said. "I always have to do it before games."
Wissler and the whole team prepare for warm-ups off the ice, then "go with the flow" and trust his instincts and skills throughout the bouts.
When their hard work pays off and they take the Hokies victory, they perform their victory song, "Every Time We Touch" by Cascada, and celebrate by spending time together as a team.
For Coach Mullen, Wissler and Messuro, hockey has been an integral part of their lives since they were young. Wissler and Messuro both took to the ice around the age of five and have never turned back. Mullen grew up surrounded by hockey greatness, being the nephew of two former NHL players. Mullen's uncle won 3 Stanley Cups and was the first American player to score 500 goals.
Mullen is very proud of his team and the hard work they put into their sport.
"I don't think a lot of people understand the time (the players) put into it, the work they put into it and the dedication," said Mullen. "I would put it in there with what the NCAA guys do, plus these guys drive 45 minutes, twice a week, skate for an hour and 15 minutes, come back to campus at 11 o'clock, always (having) school work and (get up) for 8 a.m. (lessons). "
Speaking on this commitment, Wissler highlighted why he and his teammates are working so hard.
"It's a really big commitment, but I mean, we all do it because we love hockey," said Wissler. "We are able to handle it all because we love hockey, and if people understood that, then maybe we would get more participation in games, and they would enjoy it as much as we did. "
The Virginia Tech men's ice hockey team puts a lot of effort into the sport because it's their passion and they want to share it with their peers. The team should be back in action next fall, and they can't wait to see their fellow Hokies jump with them for "Enter Sandman" as they skate into the new season.