Moussa Konaté displays his ambitions with his new training.
Posted On September 15, 2021
Moussa Konaté is ready for a season at Esperance Tunis. After a difficult season in Dijon (5 goals, 1 assist in 28 games). For this first experience in the land of Eagles of Carthage, the Senegalese international is indeed determined to mark the spirits. Eliminated in the semi-final of the African Champions League by Al Ahly, Esperance dreams of winning back the continental title. And watch his new center-forward sound shine.
The Blood and where can therefore count on the Lion that overflows with ambitions. "The people I work with took care of everything. Esperance has always been interested in my services. This notably motivated me to be. I am African and I love my continent. I know that Esperance is one of the best teams in Tunisia. She still wants to move forward and win titles. I told myself that I was going to come and share my experience ", thus supports the ex-striker of Amiens.
Will Konaté succeed where Khalid Basit failed?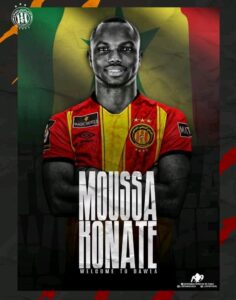 Two months ago, the Direction des Sang et Or amicably terminated the contract of Ghanaian Abdul Khalid Basit. Arrived at Esperance on January 25, 2021, the former Macedonian club striker Macedonia had always signed a 2.5-year contract. With 2 goals in 13 league games and one achievement in 10 CAF Champions League games, Khalid Basit has not convinced his world. And Tunisian leaders believe Moussa Konaté will do better than Ghanaian
Especially since the former resident of FC Sion was ambitious and convinced by the Esperanto project. "I have ambition like all the other players. I want to win titles and thunder maximum joy to the Esperanto public. I want to be one of those who will make the team grow. We will see what happens in the years to come. come. Hopefully everything will go very well. Depending on the fans to be behind their team and to come and support us ", reassure Moussa Konaté on the club's Facebook page.
The loan expires on June 30, 2022. If the Senegalese proves and wins titles for Radhi Jaidi, the Esperanto leaders can then exercise the call option. Otherwise, Moussa Konaté will have to return to Dijon. The market value of Moussa Konaté is estimated at 2.5 million euros. He is the author of 12 goals in 32 matches with the Senegal Lions.
Ablaye DIALLO